By Michael Wacht

ATLANTA ó Clergy and laity from many different ethnic groups, denominations and parts of the United States said goodbye to Florida Conference Bishop Cornelius L. Henderson Dec. 12 at Ben Hill United Methodist Church here.

For nearly three and a half hours, more than 3,000 of Hendersonís friends, family and colleagues heard stories and memories of the late bishop, who died Dec. 7 after a two-year battle with multiple myeloma, a cancer of the plasma cells.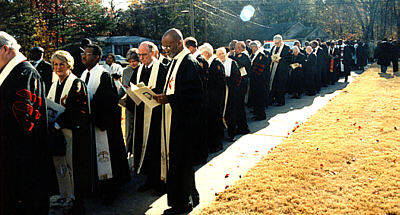 Photo by Michael Wacht
Nearly three-quarters of the sanctuary at Atlanta's Ben Hill United
Methodist Church was reserved for bishops and other clergy at the Dec. 12 funeral service for the late Bishop Cornelius L. Henderson. Many attended to honor their colleague and say farewell.
Henderson served as senior pastor of the Ben Hill church from 1975 to 1986 and again from 1992 to 1993. During his first appointment, the church grew from 400 members to more than 4,500 and was one of the fastest growing churches in the United States. Today, Ben Hill has 9,500 members, making it the largest African-American United Methodist Church in the world.
Hendersonís daughter, Leah Henderson Smith, told the crowd that her father exemplified love. "I love my daddy and I will always love my daddy and I know that until the day Jesus comes back, my daddy loves me," she said. "We [Hendersonís family] are fine, and we will be fine because he loves us and because our Heavenly Father loves us."
The Rev. Andrew Young, former mayor of Atlanta and ambassador to the United Nations, recalled a time when Atlanta was "a city seeking to reconcile black and white, rich and poor." He said there came from the pulpit of Ben Hill "a towering presence" who became an all-present influence throughout the city.
"None of use were able to serve without his comfort, joyful support and blessing," Young said. "As seminaries study what it means to be a pastor and an activist, they should study Cornelius Henderson."
Carl Ware, an executive vice president of Coca-Cola, said he remembered a time while he was running for Atlanta city council that he sat in the front row of the Ben Hill church, hoping Henderson would see and introduce him. "It was one of those sermons where it felt like every word was directed toward me," he said. "I ended up joining Ben Hill."
Others who knew Henderson during his days as a student and pastor of churches in Georgia spoke of his gifts of mentoring and caring for other people. The Rev. Eddie Lee Long, senior pastor of New Birth Missionary Baptist Church here, said Henderson helped him through struggles early in his ministry.
"When I came to Atlanta and no one knew me, the only one who would call me and tell me who I was was Cornelius Henderson," Long said.
Morris Dillard, a friend of Hendersonís, said he held "the proxy of the thousands of his friends, common ordinary people, without title, who loved this man from Covington."
"He loved us, recruited us, counseled us," Dillard said. "He helped us with our businesses and our causesÖhe affirmed us and always made us feel good about ourselves. He was proud to be a bishop in the United Methodist Church, but he was also proud to be pastor to everyone he came in contact with."
Hendersonís colleagues from the Florida Conference and the Council of Bishops also recalled how much Henderson loved being a bishop.
The Rev. W. Dean Witten, twice a district superintendent under Hendersonís leadership, said Hendersonís vision, evangelism, inclusiveness and preaching were all aspects that made "this genuinely human personÖa hall of fame bishop."
The Rev. Keith Ewing, Hendersonís administrative assistance, compared the late bishop to an eagle, one of Hendersonís favorite symbols. As a result of Hendersonís leadership and example in evangelism, in 1999 the Florida Conference experienced its first membership growth in eight years and led all other conferences in the United States in professions of faith.
"In September 1996, when Bishop Cornelius L. Henderson came to Florida, we knew an eagle had landed," Ewing said. "When he outran us to our Fatherís home on Dec. 7, 2000 we knew an eagle had soared."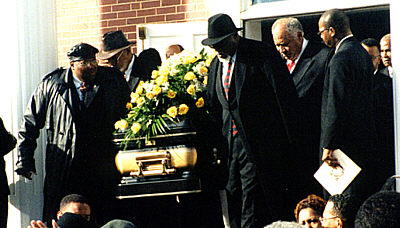 Photo by Michael Wacht
Bishop Cornelius L. Henderson's funeral procession included 100
pallbearers, 40 flower girls and hundreds of friends, family and colleagues. Following the Dec. 12 service at Atlanta's Ben Hill United Methodist Church, the bishop's body was interred at Forest Lawn Memorial Cemetery.
Top of this page

© 2000 Florida United Methodist Review Online