By Michael Wacht

ORLANDO — The Florida Conference Common Table has decided its first task will be listening to people in local churches.

That decision was made during the group's second meeting Jan. 13 at First United Methodist Church here, according to the Rev. Jim Harnish, pastor of Tampa's Hyde Park United Methodist Church and chairman of the Florida Conference Council on Ministries (CCOM).

"Our purpose is to get out of the Lakeland box and get real people in local churches talking about where the conference is going and what the conference is doing," Harnish said.

The Common Table is a group of elected leaders of the official bodies of the Florida Conference that are meeting at the invitation of the CCOM. It is designed to be a forum of conference leaders discussing how best to accomplish the conference's mission. The group of six clergy and 11 laity from various conference agencies and areas first met last November in Tampa.

The Common Table has no decision-making authority. Its goal is to guide conference leaders in making decisions about using conference resources to fulfill its mission and priorities, according to Harnish. "The expectation is that as the leadership of the conference finds a common mind in Christ around the table, it will enable us to lead the agencies of the conference to a common sense of direction together," he said.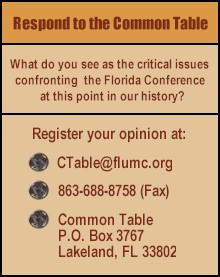 The Common Table's "listening strategy" will help the group learn about issues that need to be confronted, Harnish said. Although the strategy has not been defined, Common Table members have chosen the first topic of discussion.
"As a first step in the conversation, the leadership team [Common Table] invites an immediate response to the question, 'What do you see as the critical issues confronting the Florida Conference at this point in our history?' " Harnish said.
One of the issues team members identified is how to energize local churches in meeting the conference's mission. "There's a strong feeling among this group that the [conference's] mission is defined in the Scriptures and the Book of Discipline: to make disciples of Jesus Christ," Harnish said. "We're pretty foggy on how we effectively accomplish that through the connectional system. Nobody gets baptized at Annual Conference. If it's going to happen, it's going to happen in the local church."
Harnish said members of the Common Table have no assumptions about the outcome of the Common Table process. "God only knows what might be accomplished and what might happen," he said. "This is a profoundly spirit-centered process…and the results of this process will be a movement of the spirit."
People may respond to the Common Table's question by e-mail at CTable@flumc.org, by fax to Common Table at 863-688-8758 or by mail to Common Table at P.O. Box 3767, Lakeland, FL 33802.
---
Top of this page

© 2001 Florida United Methodist Review Online